Wesan Medical Equipment
Welcome to our company history page.
News | Products & Services | Feedback | Privacy Statement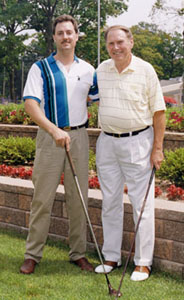 Wesan Medical Equipment was originally involved in the respiratory and anesthesia fields serving the local Detroit Metro area medical facilities. This quickly branched out into all areas of the medical gas field. Every components of the gas source, distribution, and delivery systems. From pumps, compressors, cylinders and tanks, to the flowmeters at the patient end, and everything in between.
Since we have had recent inquiries about our backgrounds, and the story behind the company, we thought it would be nice to make this information available to everyone. This of course is an abbreviated history of the company and our interesting lives. But please enjoy the story. The photo at the right was taken of Brian and William Skene at a Father & Son golf outing. Please click on the picture if you would like to see a full sized photo. We had a lot of fun harassing each other on the golf course
William E. Skene
Originally, besides being a semi-professional photographer and Wonder Bread delivery man, William wasn't happy unless he was tinkering with something. (He still does this) He began a career at Detroit Gas Products and had the desire to work for himself. Thus, he decided to strike out on his own and rely on his knowledge and talents to build up a customer base. Wesan Medical Equipment was founded in 1962 and it didn't take very long to build up relationships with customers that have stood up to the test of time. Most of these original relationships have lasted to this day. (Over 54 years)
During his long and colorful career, William was in charge of Research Anesthesia at Mt. Carmel Hospital, and was also teaching pressures and flows at Mt. Carmel Hospital and Highland Park College. He was continually called upon to help solve issues with the research being conducted in facilities all around the area. In the mid 1960's he assisted with the first Osteopathic open heart surgery by operating the heart & lung machine (Pump). William was called in on several experimental, and full open heart surgeries.
William was always looking at things from a different perspective. He found out that damaged tissue healed better and faster when it was exposed to a high concentration of oxygen, so he invented the Hyper-baric bag and sleeve, these are devices for the treatment of gas gangrenous ulcers, and other open wounds. This line of products was manufactured for years by B&F Medical Products. He assisted B&F with several product designs and manufacturing related issues over the years.
William, although retired, still comes in to the office everyday. (It's that tinkering drive) he consults on projects and helps manufacturers and customers with design and equipment problems.
Brian W. Skene
Besides getting into trouble at school for refusing to do the "busy" work without a good reason, Brian was a model student, polite attentive, efficient. He was a free thinker, and like his father, was always outside the box. Gadgets, gizmos, and anything electrical, or electronic was fair game. It didn't last long in one piece. It would soon become part of a creation for enjoyment or just a practical purpose that nothing else could be found to accomplish.
A life with Wesan Medical Equipment began in 1982 for Brian, who like his father had his hands in several fields. Mechanical and electrical equipment, and the computer field as budding as it was at the time, was very interesting to him. (There was that gadget itch again)
Since his inception into the company over 34 years ago, Brian attended the National Institute of Electronics and then switched over and attended Schoolcraft College to experience their Bio-Medical Engineering program.
Brian, like his father, continues to work with manufacturers and customers, to come up with solutions and improvements to their designs and product needs. Building and repairing custom equipment for specialized procedures, as well as assisting customers with operational issues and special needs / desires.
During the last 34 years besides being a fully credentialed medical gas verifier and plumbing inspector, Brian has added services to the company. Facility auditing, and medical gas inspections, trouble shooting electronic equipment such as medical gas alarm panels, central monitoring systems and other components pertaining to medical gas systems. In addition to his mechanically inclined nature, and the knowledge imparted to him by his father, Brian has successfully added talents that round out the range of services that Wesan now makes available to it's customers.
We are real people, that can help you with your real problems.
Thank you for taking the time to get to know us. We hope that you have a better understanding of us and our drive to serve our customers.